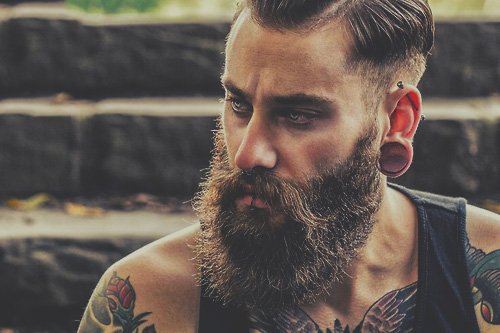 4 Ways to Spruce Up Your Style
The time of men neglecting their physical appearance is long gone—men are taking more pride in their hair, hygiene, style, and facial hair than ever before. It can be difficult to navigate the tricky world of men's grooming, so check out these four simple ways to spruce up your personal style and put your best face forward….
Take care of ThaT beard
2015 has officially been named "
The Year of the Beard
," and for good reason. men are sporting beards large and small, and it's catching on like wildfire. Regardless of your stance on fuzzy faces, one thing is for sure—a man's face is his first impression to the world, and it's worth taking care of. if your beard is your facial pride and joy, wash it frequently—as least as often as you wash your hair. our team recommends using a moisturising shampoo and conditioner. if your beard is especially coarse, you might benefit from a leave-in conditioner that will extend the life of the moisturising without leaving your face feeling greasy.
GeT a fresh new cuT
The man bun isn't for everyone. one of the popular men's
hairstyles
now is the "Disconnected," which works for all hair types. With more length through the top and short sides, it's universally flattering. The sides are open to the interpretation of the individual man, too, and could be short, undercut, or shaved down to the skin in a fade. The hair can be slicked back or left to hang to one side or the other, and it's easy to infuse hasslefree volume with a blow dryer. it's also a cinch to maintain and needs just a quick towel dry and some light hold gel to keep it looking fresh.
Wash, MoisTurize, repeaT
men's faces go through a lot of wear and tear from shaving often. Any drugstore has aisles upon aisles of women's face wash, moisturiser, toner, and an array of other products, but men need to wash their faces, too— twice a day, in fact. men are more likely to suffer from oily skin, which tends to clog pores and leads to blackheads and pimples.
After shaving
, it's important to exfoliate and moisturise to address the side effects of shaving and make your skin smoother. in turn, you'll be fighting off razor burn and inflammation, leaving your face blemish-free and totally clear. choose a facial cleanser with natural exfoliants (not only are the little plastic beads bad for the environment, but they're not great on your skin, either) and a moisturiser that complements your skin type. Dry, oily, or combination skin? There's a product out there for you. Remember to wash your face both in the morning and at night.
Find a sTyle inspiraTion you TrusT
You don't need to spend a fortune to look your best. A few smart self-care choices and a confident attitude are all you need to stand out from the pack. But when it comes to making
trendy style
changes, find inspiration from a magazine, celebrity, athlete, or friend, and build a relationship with your barber to help you achieve your style goals. They'll keep you on the cutting edge of men's grooming trends, and you'll look and feel your best, ready to take on the world.